-A total of 270 people have been charged or cautioned since the law began, but there has been criticism after some cases collapsed.
-A Sky News investigation found there were more than 800 arrests and around 270 people were charged or cautioned in the first 16 months of the Psychoactive Substances Act.
-Drugs including Spice, which can leave users in a zombie-like state, nitrous oxide and other substances called Pandora's Box, Blue Cheese and Monkey Dust were among those confiscated after legal highs were outlawed in May 2016.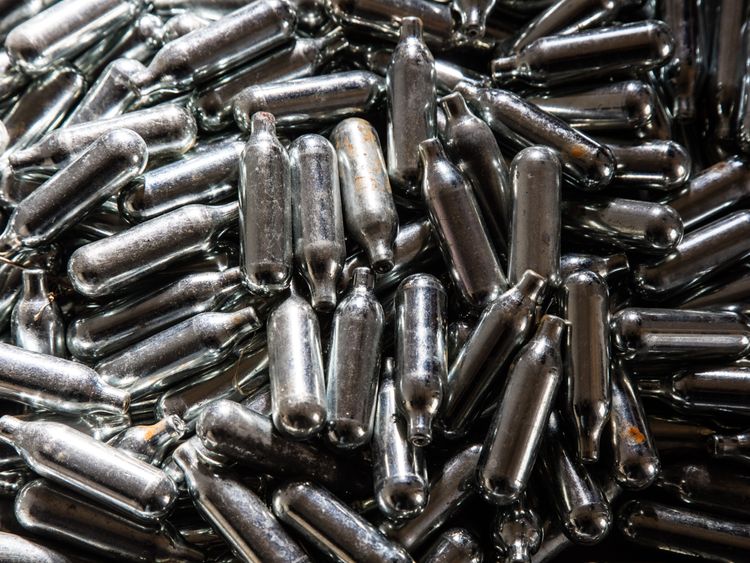 But charity Release has branded the law "ineffective" after two court cases linked to nitrous oxide - or laughing gas - collapsed when it was ruled the drug was exempt because it can be used for medical purposes.
Police officers have also faced confusion about whether substances should be dealt with under the PSA after some former legal highs - such as Spice and Black Mamba - were re-classified as Class B controlled drugs, making possession illegal even without intent to supply, the charity said.
Kirstie Douse, head of legal services at Release, told Sky News: "Release considers the legislation to be fundamentally flawed because of the difficulty in proving the psychoactivity of many substances to the required legal standard, and we expect to see this challenged in future court cases across the UK.
"The one welcomed aspect is the fact that possession for personal use is not an offence under the PSA 2016.
"However, this inevitably leads to confusion for police officers in determining whether a substance falls within the remit of the PSA or the Misuse of Drugs Act 1971."
Sky News submitted freedom of information requests to all 45 police forces in the UK asking for details of crimes, arrests and charges under the PSA.
Figures released by 41 forces revealed there were 805 arrests between May 2016 and September 2017, while 274 people were charged or cautioned in the same period.
They included Britain's biggest force, the Metropolitan Police, which said 313 people had been arrested and 68 people were charged.
Police Scotland said it had charged 18 people after recording crimes involving substances including Loop, Spun Out and Genesis.
Greater Manchester Police, which in April said it was called to 58 incidents related to the drug Spice over one weekend, said it had carried out 101 arrests under the PSA and 54 people had been charged, cautioned, summoned to court or dealt with using restorative justice.
The PSA was introduced after hundreds of deaths were linked to legal highs, which recreate similar effects to cocaine, ecstasy and cannabis.
In 2015, new psychoactive substances were involved in 204 deaths in the UK - up 25% from 163 deaths in 2014.
The Home Office, which previously revealed there were nearly 500 arrests in the first six months of the PSA, insisted the law was working.
A Home Office spokeswoman said: "Psychoactive substances ruin lives and we owe it to all those who have lost loved ones to do everything we can to eradicate this harmful trade.